Leicester fire evacuation burglary arrests made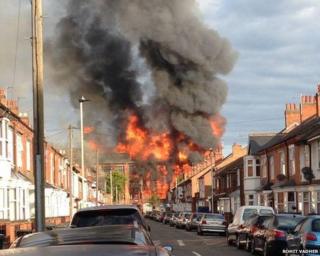 Two people have been arrested after homes evacuated following a large fire in Leicester were burgled.
Up to 200 homes were evacuated on 7 August when the blaze broke out at a nearby factory on Melton Road.
Some residents returned to their properties three days later to find money and gold jewellery had been stolen.
A 28-year-old man and a 28-year-old woman were arrested and released on police bail pending further inquiries.
A £1,000 reward was offered for information after three houses and a service station next to the site of the fire were ransacked sometime between 9 August and 11:00 BST the next day.
Officers said the burglars had got in through the back as the fronts were boarded up because of fire damage.
Homes in four roads were evacuated as a result of the blaze, which caused the collapse of the four-storey factory building.