Richard III 'worth £45m to Leicester economy'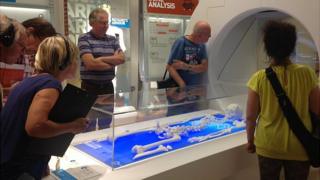 The discovery of Richard III has boosted Leicester's economy by about £45m, according to latest figures.
The notorious monarch's bones were discovered beneath a council car park in 2012.
One of the trustees of the new visitor centre said local tourism had grown by 3% more than comparable areas and Richard was the likely cause.
The centre itself has just welcomed its 10,000th visitor - in line with targets to attract 100,000 people in a year.
Martin Traynor, the centre's chairman of trustees and the former chief executive of Leicestershire Chamber of Commerce, highlighted the numbers.
Limited lifespan
He said: "Last year tourism was worth about £1.5bn to the Leicester and Leicestershire economy.
"The interesting thing is leisure and tourism was up 6% in the county last year, whereas in surrounding counties it was only up by 3%.
"We think that £3% was down to the Richard III effect, which is therefore worth about £45m."
But he emphasised they were already looking at making the centre sustainable in the long term.
"I suspect we will have a two year period when everyone who wants to visit will do so.
"The key in years three, four and five is to refresh the exhibits and make people want to come again," he said.
The remains of Richard III are due to be reinterred in Leicester Cathedral on 26 March 2015.