Leicester theatre parking plan prompts row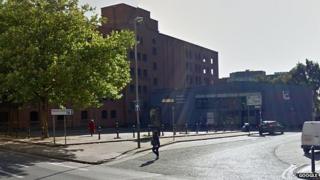 Plans to turn a Leicester open space into a car park are facing opposition.
The paved area outside the former Phoenix Arts Centre - now called the Sue Townsend Theatre - could be converted into 22 parking spaces.
The city council's planning committee is recommending approval of the changes despite nearly 40 letters of objection.
While campaigners have said the space should be used for creative events, officials insist nearby parking would boost the theatre.
Julian Wright is calling on the council to delay work until a full consultation has been completed.
Spaces lost
"If it is a choice between some car parking and a cultural space, the cultural space should win out anyway.
"This theatre is not being used to its full capacity, it needs to be brought up to that capacity and we could easily find cultural uses for this space as well," he said.
But Leicester's deputy mayor, Rory Palmer, disagreed: "I can't remember when we last saw an outdoor performance on this space.
"What we are proposing to do is enhance this area, provide some extra parking spaces which will hopefully benefit the theatre long term."
The proposals come as the finishing touches are put to the new Jubilee Park, converted from the old St Nicholas Place car park.