Glenfield's 'experimental' ECMO unit celebrates 25 years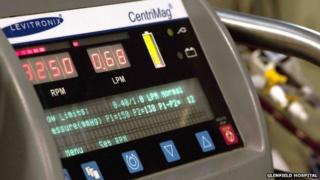 A centre for critically ill patients which started out as an experimental treatment unit, is set to celebrate its 25th anniversary.
The ECMO (extra corporeal membrane oxygenation) unit at the Glenfield Hospital opened in August 1989.
Over the past 25 years, the unit in Leicester, which is the only one in the UK for both adults and children, has treated more than 1,800 people.
Consultant heart surgeon Giles Peak said the programme had come a long way.
"It was very much an experimental treatment in those days and since then, we have studied its effects and turned it into a standard of care," said Mr Peak.
"We've treated very sick patients whose chances of survival with ordinary treatment is very low, less than 20% in some cases."
What is ECMO?
ECMO machines take blood out of the body to extract carbon dioxide and replace it with oxygen
It is used to keep patients alive while underlying medical conditions are treated
It was pioneered in the USA in the late 1980s
Glenfield Hospital is Europe's largest ECMO centre and can treat up to eight patients at one time
Source: Glenfield Hospital
In 2009, Glenfield's ECMO unit hit the headlines during the swine flu outbreak.
Two pregnant women - one from Scotland and one from Northern Ireland - contracted the virus and under went ECMO treatment in Leicester.
Both women and their babies survived.
Uncertainty over the ECMO unit in Leicester remains after the government recommended the children's heart surgery centre at Glenfield Hospital for closure.
It is believed if the surgery centre closed, the ECMO unit could be relocated,
A review into the decision, which would see seven "centres of excellence" for child and adult heart surgery around England, has been delayed until 2015.