King Richard III's Leicester reburial to be marked by senior clergy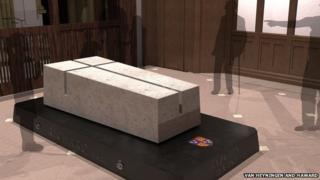 The country's most senior clergy will take part in services to mark the reinterment of King Richard III.
Archbishop of Canterbury Justin Welby has announced he will take a service at Leicester Cathedral next year.
He will be joined by the Cardinal Archbishop of Westminster to take mass at local churches in the week running up to the service, on 26 March 2015.
It means senior members of both the Catholic church and Church of England will be key to the reinterment.
It was revealed earlier this year Richard III's skeleton would be placed in a coffin at the University of Leicester four days before the service.
---
Who was Richard III?
Richard III was the last Yorkist king of England, whose death at the age of 32 in the Battle of Bosworth effectively ended the Wars of the Roses.
His nephews Edward V and Richard of York, the "princes in the tower", disappeared in 1483 and are said by many historians to have been murdered on Richard III's orders.
Shakespeare's version of events in his play Richard III added to the king's infamy.
Some historians reject the heinous crimes attributed to Richard.
Find out more about Richard's reign
---
It will then be taken to Bosworth, where the last Plantagenet king was killed in 1485, before a procession through villages connected with his final campaign, to Leicester.
After arriving at the cathedral, Richard's remains will lie "in repose" for three days before being reinterred.
'Dignity and prayer'
His remains were discovered under a Leicester council car park in 2012.
A group claiming to comprise distant relatives of the king was then granted a judicial review into the licence that gave Leicester the right to reinter his remains, but this was dismissed in May.
The Catholic diocese of Nottingham and Anglican diocese of Leicester said they have worked together to ensure the reinterment is "celebrated with dignity and prayer".
Cardinal Vincent Nichols, the Archbishop of Westminster, said: "The death of King Richard III at the Battle of Bosworth in 1485 was a decisive moment in English history.
"It is now fitting that his remains should be reinterred with dignity and accompanied by the prayers of the church in Leicester Cathedral."
The Very Revd David Monteith, Dean of Leicester, said: "Leicester Cathedral has always intended to have prayer at the heart of Richard III's reburial and we wanted to demonstrate our sincere ecumenical commitment which characterises the modern church. "
The area around Richard's tomb will open to the public on 28 March.