No blame in Lexi Branson dog maul death, coroner rules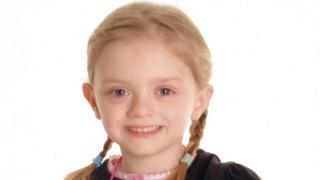 There is "no question of apportioning blame" in the case of a four-year-old girl mauled to death by her family's dog, a coroner has said.
Lexi Branson died after being attacked at home in Mountsorrel, Leicestershire, on 5 November.
The Aylestone-type bulldog had only been in the home for four to five weeks before it attacked Lexi.
Recording a narrative verdict, senior coroner Trevor Kirkman said it was "one of the most harrowing cases".
He said: "I know it cannot have been easy to those nearest and dearest to Lexi to have sat through the evidence."
Mr Kirkman also announced he would be writing a report with recommendations to try and "prevent future such deaths".
The inquest at Rutland and North Leicestershire Coroner's Court had heard that, unknown to the family or staff, the dog had gone through six previous owners.
While it had been assessed as suitable for rehoming by staff, a note stated it might not be right for a home with "smaller children".
Michael Watts, owner of Willow Tree Dog Rehoming Centre in Barrow-upon-Soar, confirmed no home visit had been made to the family flat.
Mr Kirkman said staff knew the family lived in a ground-floor, two-bed flat, and asked Mr Watts: "When would you consider it appropriate to visit that home?"
Mr Watts replied that it depended on certain factors, including the potential owner's knowledge of dogs.
He also explained that carrying out home visits at the discretion of staff was in line with industry guidance.
Mr Watts confirmed staff had no external training in rehoming dogs but relied on local experience.
Following the hearing, Lexi's mother, Jodi Hudson, said in a statement: "The last 10 months have been extremely difficult for me and all who knew and loved Lexi.
"She was a bubbly girl who always had a smile and brought happiness to everyone she met.
"We still think about her every day and she lives on in our hearts as we have such wonderful memories of her."