Leicester NHS trust hires 'stop-gap' Europeans to solve nurse shortage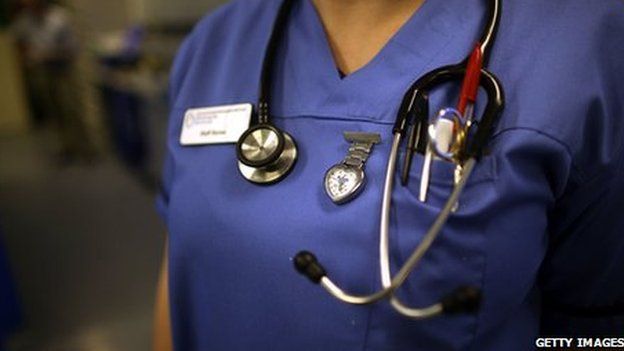 Nurses from across Europe are acting as a "stop gap" in Leicester as its hospitals tackle a staffing shortage, a nursing leader said.
The University of Leicester Hospitals Trust (UHLT) has hired 206 international nurses since January.
The NHS would be "in dire straits" without the foreign nurses, Royal College of Nursing spokeswoman Sheila Marriott said.
The new nurses are given a two-month induction, an NHS spokesman said.
"If we did not have the nurses coming from Europe there would be a huge problem maintaining the quality of care in the NHS," Mrs Marriott said.
"This is very much a stop gap, but is it not sustainable in the long term.
"It is a pragmatic step in the short term, but we need to get away from 'boom and bust' planning and get systems in place for (UK) training that are not going to be cut every time there are financial pressures in the NHS," she said.
She said there were not enough nurses in the UK because "there are just not enough training places".
ULHT chief nurse Rachel Overfield said: "It is factor of supply and demand…a lot of hospitals have invested hugely in nurse staffing in the last year to 18 months."
The NHS in Leicester invested £6m in new nursing posts at the end of 2013 which has "increased our vacancy factor from about 200 to about 500 posts", she added.
"We are having to go overseas to address that gap."
The nurses are being recruited from Ireland, Spain and Portugal because many local nurses there are unemployed due to "massive" public services cuts, she added.
The UHLT has a total of about 12,000 medical and non-medical staff across all its services, including 3,499 nurses
The trust has hired more than 200 international nurses since January, with the final tranche of 46 nurses starting on 15 September
The trust has an average turnover of about 35 nurses every month with some leaving and other transferring to other hospitals
The new nurses will be given a two-month induction, including help in understanding British colloquialisms
Related Internet Links
The BBC is not responsible for the content of external sites.