Homeless hostel cuts: Protestors worried Kennedy House may shut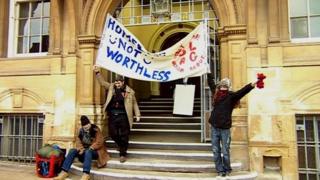 A homeless hostel has warned "lives will be in danger" if its budget is slashed.
Managers at Kennedy House in South Wigston, near Leicester, said it already has to turn dozens of people away because it is so busy.
They said it could be forced to close if Leicestershire County Council cuts funding.
The council is aiming to save £3.5m from its prevention services budget, which includes homeless services.
'Completely wrong'
A protest against overall council funding cuts was held at the hostel on Tuesday.
Dean Southin, 34, who has lived at Kennedy House for five months, said: "Without it, people's lives would be in danger. It's very important to keep it.
"It would be completely wrong to get rid of a place that helps so many people."
A cabinet meeting on Friday will consider a recent consultation on homelessness which could see the centre's direct grant reduced but increased funding to "floating outreach service".
'Nowhere to go'
Jen Lovegrove, manager of Kennedy House, which is owned by Shaw Healthcare, said: "It is clear to see that the removal or reduction of the support we provide would have a serious knock-on effect on services throughout the community.
"We currently turn away more than 30 individuals a week who we simply aren't able to accommodate. If our services are withdrawn, many people in need will have nowhere to go."
County Councillor Dave Houseman said the county is aiming to cut the number of people who use hostels through counselling and outreach.