Alcohol breath test for customers in Loughborough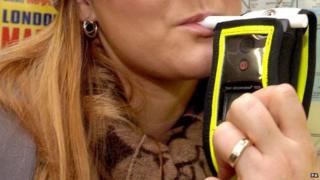 A pilot scheme to breath test some customers before they gain entry to a number of licensed premises in Loughborough is set to start.
Police and the borough council said the trial could help reduce anti-social behaviour and admissions to A&E.
A force spokesman said not everyone entering the clubs would be tested and it would be up to door staff to decide when to use the devices.
The pilot, which has been used in Norwich, will end in November.
'Permanent basis'
A spokesman for Leicestershire Police said the guideline limit for refusal would be someone twice over the legal limit for driving.
He added that the town did not have a major problem with anti-social behaviour caused by excessive alcohol consumption but the scheme could help make improvements.
Door staff will use the breath test devices as a tool to prove to some that they are not fit enough to enter the premises.
David Snartt, Charnwood Borough Councillor, said: "The night-time economy is very important. However, people need to understand that they need to drink responsibly."
PC Mike Green, the co-ordinator for the initiative, said he wanted to raise awareness of the effects of excessive alcohol consumption.
He said: "[We] will be undertaking a review to see if it merits being rolled out on a wider and permanent basis across the area."
The pilot will run until 3 November.
The Loughborough premises taking part:
Loughborough Students' Union, Ashby Road