Leicester 'fire risk' wheelchair user's benefits reinstated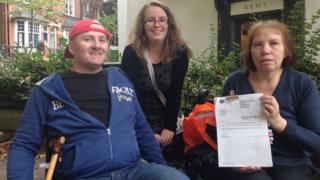 A disabled man who was refused a benefits assessment because his wheelchair was deemed a safety risk, has had his payments reinstated.
Charles Foreman, from Leicestershire, who has a back condition, had his benefits stopped in 2011.
The 53-year-old was turned away from an assessment on the first floor of a health centre in 2013 because providers Atos said his chair was a "fire risk".
Atos's contract ended early in March over "significant quality failures".
'Depressed'
Mr Foreman, from Market Harborough, said he was "ecstatic" after the hearing in New Walk, Leicester.
"It's been hell - it's like being buried. I've been depressed - I haven't been eating," he said.
Mr Foreman has had back problems since 1982 which eventually forced him to stop working 12 years later.
He started claiming disability benefits a decade later after he was told he had a degenerative back condition.
But his benefits were stopped in 2011 after a doctor assessed him at his home.
Benefits change
Last year he was turned away from an assessment related to his Incapacity Benefit at a building in Rutland Street, Leicester, because Atos was "unable to allow access" to people with walking aids.
It claimed the number of stairs they would need to descend in a fire posed a fire risk.
The company apologised for turning Mr Foreman away last year and said it offered alternative options to wheelchair users who were asked to attend appointments at the government-owned building.
At the tribunal, he was told his Disability Living Allowance, now called the Personal Independence Payment, will be reinstated and backdated to 2012.
In 2010 the government began phasing out incapacity benefit and required all claimants to be assessed before switching to Employment and Support Allowance.
Atos was heavily criticised over the number of assessments it made and lengthy waiting times and ended its contract with the Department of Work and Pensions early in March.