On-the-run lawyer Shameer Sacranie guilty of £1m tax fraud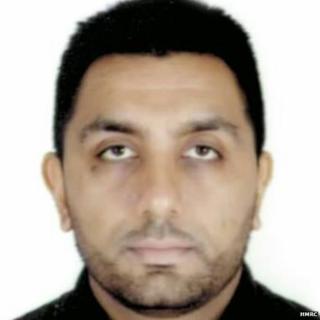 A solicitor has been found guilty of stealing almost £1m of tax in a stamp duty scam.
Shameer Sacranie was sentenced to 10 years in jail after an investigation by HM Revenue and Customs (HMRC).
The 40-year-old from Leicester, who is believed to have fled the country before his trial, was sentenced in his absence.
Investigators said Sacranie's abuse of his clients' trust was "a despicable act".
Sacranie, who worked as a director for SFS Legal solicitors in Leicester, was arrested in December 2011.
'Abused trust'
Investigations revealed he had fraudulently altered legal property documents to reduce the amount of stamp duty due on 139 properties bought by his clients.
He then charged clients the full Stamp Duty amount and pocketed the difference.
He was due to appear at Nottingham Crown Court on 8 September, but absconded.
On Thursday, a jury found him guilty of cheating the public revenue and he was sentenced in his absence.
Judge Michael Stokes QC also issued a bench warrant for his arrest.
Stuart Taylor, assistant director of criminal investigations at the HMRC, said: "As a solicitor, Sacranie knew only too well what the consequences of his actions would be.
"To abuse the trust of his clients was a despicable act, stealing money that had been paid by them in good faith to meet their tax liabilities."