Councillors worry over traffic from new crematoria sites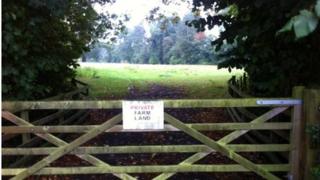 Concerns have been raised about future traffic flow from three new crematoria in south Leicestershire.
Two parish councillors from Countesthorpe are worried by "dangerous bends" near the properties.
Two of the projects were initially rejected by local authorities but later approved on appeal, while a third was also turned down but is being appealed.
Richard Powell of the Federation of Burials and Cremation Authorities said demand for cremation is rising quickly.
Close proximity
The three crematoria are located within a few miles of each other.
Countesthorpe parish councillors Cynthia James and Tony Collis-Smith said access to the Countesthorpe site is through a "busy side road".
In June, councillors at Blaby District Council rejected the application for Kilby after highways experts said it could lead to more accidents.
But Westerleigh, developer of the Kilby site, has appealed the decision and a hearing will take place in November.
Mr Collis-Smith said: "We assumed it was highly unlikely there would be viable business for another (third) crematorium nearby."
The Great Glen crematorium will be operated by the Cooperative, while the Countesthorpe project will be run by Memoria.
Mr Powell said the existing Leicester crematorium, which holds about 3,000 cremations a year, is one of the busiest in the the UK.
"With growth of population, the number of cremations taking place is increasing quite significantly in the UK," he said.