Loughborough University student noise problems could be tackled by street marshals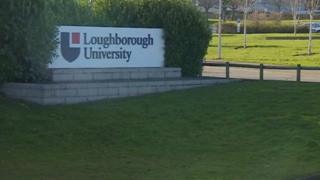 A town's residents have welcomed a scheme to encourage local students to keep quiet late at night.
People living near Loughborough University say they regularly complain about noise, students urinating in their gardens and damage to property.
A councillor is now proposing to introduce a marshal scheme which has been successful in other towns.
The university said it was "not complacent" about issues and was committed to reducing the problems.
Ashby Road resident, Stephan Bullman, said: "They don't seem to understand they are waking up people as they go past."
Another resident, Brian Clough, said: "Our front wall has been pulled down a number of times and we live in dread it is going to happen again."
This week the Loughborough Echo reported that one student had been suspended after a number of disturbances in Ashleigh Drive.
Charnwood Borough Councillor Ted Parton said he wanted to bring in trained staff to work with police patrolling the streets between 23:00 and 04:00.
"We are not trying to take the fun away, rather to produce a cultural shift to say it is not acceptable to make noise to wake people and commit acts of lewd behaviour," he said.
"We want them to have fun in a respectful way."
The scheme has been successful in Leamington Spa, Warwickshire, where the University of Warwick has spent £50,000 on street marshals.
Richard Taylor, chief operating officer at Loughborough University, said its security and community wardens dealt with complaints but more could be done.
"Some of the behaviour we have heard about is not acceptable," he said.
"We are not complacent. There are significant problems we need to resolve and we are committed to reduce those.
"If street marshals is the answer we need to be realistic about what it will do."