Leicester's High Cross monument moved to Jubilee Square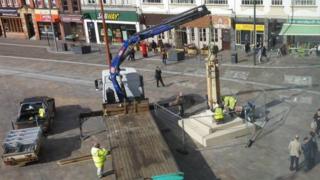 A 16th Century monument has been moved into a new position in Leicester's city centre.
The High Cross has stood outside the city's market since it was moved there in 1977.
Specialist teams relocated the stone pillar to the new £4m Jubilee Square, close to the site where it was first built in 1577.
The cross at the top of the pillar has been removed and taken away for restoration.
Leicester mayor Sir Peter Soulsby said: "Jubilee Square provides a new connection between our modern city centre and the rich heritage of the old town.
"The High Cross itself is a monument to centuries of local history and this is the perfect opportunity to return it close to where it originally stood."
---
The High Cross
The monument was originally erected in 1577 to act as a shelter
It consisted of eight pillars in a circle surmounted by an eight-sided dome
It fell into disrepair and by 1773 most of it was pulled down
The single remaining pillar has had many homes in the city centre
---