Leicester backs city-wide alcohol ban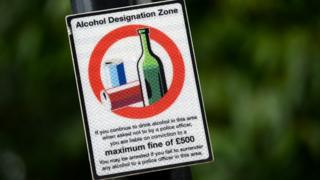 A city-wide drinking ban in Leicester has been backed by a public consultation, Leicester City Council has said.
It asked people how much public anti-social drinking affected their lives.
Of the 630 people who responded, 87% said it was a problem and 77% backed plans for the ban.
A Public Spaces Protection Order would allow police to intervene earlier than rules currently allow. The council will discuss the plan on 13 November.
Sarah Russell, assistant city mayor for neighbourhood services, said: "People have told us that they're suffering with the noise, littering, intimidation, verbal abuse and other unpleasant behaviour linked to street drinking, and this PSPO will give the police greater powers to take action.
"While smaller zones have been used in the past, it just moved the issue two streets away or to the edge of the park. This, we hope, will stop it in the city".
The proposed order would allow police to question those they think are likely to cause problems and compel them to dispose of any alcohol.