Leicester Biffa waste stink 'misery' until 2027, councillor says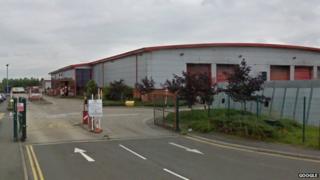 Residents may have to put up with a "putrid smell" coming from a rubbish-handling plant for another 15 years, a councillor has claimed.
Leicester City Council entered into a 25-year contract with Biffa in 2002 to manage the city's waste.
Abbey Ward councillor Vijay Singh Riyait said the firm had repeatedly failed to deal with odours at its Mowmacre Hill site.
Biffa said it was working with partners to address issues at the plant.
The firm said it was committed to providing a "first class waste management service for the residents of Leicester".
In June, the Leicester Mercury reported the city council had employed expert 'air sniffers' to monitor odours from the plant.
'Boiled cabbage'
Mr Riyait said there had been problems since it opened in 2003.
"People have complained constantly and nothing seems to have happened," he said.
"I think the putrid smell will continue as long as Biffa has the contract," he said.
Another local councillor, Annette Byrne, said: "The smell makes you feel sick.
"You can't really describe it, it's like boiled cabbage that's gone wrong for a year. Really horrible."
Problems with leaks and the air pressure system at the site have been identified and Biffa is due to report to officials and residents on 20 November.
In a statement, the firm said: "We have received no complaints about alleged odours for the past five weeks, and that prior to that, complaints had been running at a low level."
It added Biffa and Leicester City Council had commissioned an independent air quality survey, with the results due at the end of October.