Charnwood 4,500 homes decision deferred by committee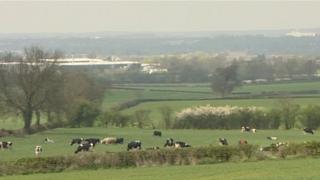 A planning committee has deferred its decision on an application to build 4,500 new homes in Leicestershire.
The development, which includes schools and a new road, on 880 acres of land to the north east of Leicester, was first proposed six years ago.
Since then residents have campaigned against the scale of the plans and potential traffic issues.
At a special meeting on Friday, members postponed their decision at the last minute to consider new representations.
The proposals, for farmland around Barkby, Barkby Thorpe and Thurmaston, also include shops and an industrial estate.
Chairman of Charnwood Borough Council's planning committee Councillor Peter Osborne said the plans were the biggest Leicestershire had ever seen.
"There's lots of issues," he said.
"There are always conditions to every application that comes forward whether big or small, but especially when you are dealing with the biggest application the county has seen."
Barkby and Barkby Thorpe Parishes Action Group (BABTAG) chairman Owen Bentley said he had been surprised the meeting had been called while a government inspector had paused his inquiry.
He said: "It seems very odd to be going ahead with 4,500 homes when we don't know if that is what he [government inspector] wants in this particular area."
The developer, Commercial Estate Group (CEG), said the scheme would "sensitively respect" the local environment and character and would include green and open spaces.