World War One medal stolen from Leicester Cathedral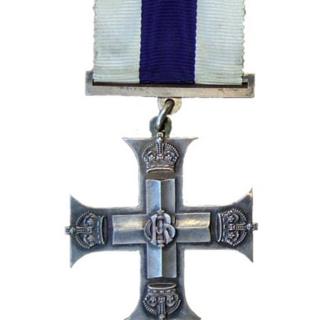 A medal awarded posthumously to a soldier who died in World War One has been stolen from Leicester Cathedral.
The Military Cross, belonging to Lt Alfred Ernest Chambers, had been displayed on a brass plaque on an outer wall of the building since 1983.
Police believe the medal was taken sometime between July and September.
Stefanie Brown, Mr Chambers' great niece, said she felt "bereft" by the theft and appealed for help in catching those responsible.
'Large timescale'
"What a sad world we now live in," said Ms Brown. "My late uncle died for our country at 22-years-old in October 1918.
"The medal of this brave soldier should be brought back to Leicester Cathedral."
A spokeswoman for Leicester Cathedral said: "We were saddened to discover that over the last few months someone visiting the Cathedral decided to desecrate the plaque displayed in memory of soldiers killed in battle.
"This particular plaque was on the wooden wall which separates the St Georges Chapel from the main nave."
It would have been in full view of the nave, she added.
PC John Le-Good said: "We appreciate there is a large timescale during which the medal has been taken but we hope by releasing a photo and Alfred's details, which will be marked onto the medal, it will give us a better chance of locating it."