Anne-Marie Drozdz Bali murder: Killer's sentence 'lenient'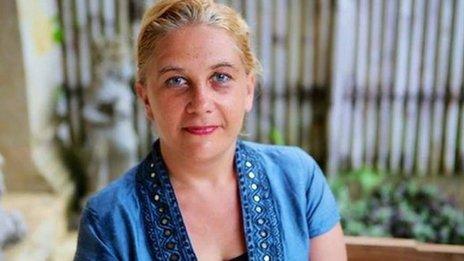 The family of a woman murdered days after arriving in Bali are "flabbergasted" by her killer's "lenient" sentence.
Anne-Marie Drozdz, 49, from Hinckley in Leicestershire, was found dead in a villa where she was staying on 22 May.
A local man, a 32-year-old named as Hambali, was arrested within days, confessed to the murder and has been jailed for 18 years.
But Ms Drozdz's brother Gregory Drozdz says too many questions are unanswered.
He still does not know exactly how and why his sister died.
"We didn't know anything about the trial taking place," he said.
"We have no idea what case was made for the prosecution or what case was made for the defence, and frankly we are left flabbergasted by the sentence."
Ms Drozdz went to the Indonesian island to set up a social enterprise, because she wanted to improve the lives of young people.
The Jakarta Post reported she was discovered with multiple injuries to her body, and that a rope allegedly used to kill her was found.
Mr Drozdz said: "There's too many questions; questions about the security in the villa where she was staying, questions about what the killer did.
"He went on a spending spree with the money that he stole from my sister. It's so difficult to contemplate.
"He threw a party for his friends on money that he had robbed from somebody he had killed."
He said there had been no direct contact with the police in Indonesia.
"We have had only second-hand contact with them through the British Consulate out in Bali," he said.
"People say to you that you are never going to know the truth, well I believe that somewhere in some documents somewhere there is a description of what happened to my sister in her last few moments of life."
Related Internet Links
The BBC is not responsible for the content of external sites.