Leicester Golden Mile shared space proposal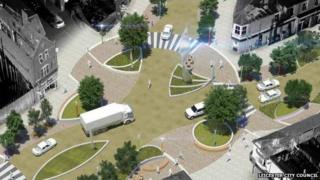 A city council is considering removing pavements and traffic lights from a busy shopping street.
Leicester's Golden Mile would be the second "shared space" area in the city after Jubilee Square, if the plans go ahead.
City Mayor Peter Soulsby said the plan will tackle congestion, poor air quality and difficulty crossing.
But residents and businesses have said it could be dangerous and drive shoppers away.
The Golden Mile
The Golden Mile is a stretch of Belgrave Road and Melton Road in Leicester.
It is named after the number of Indian jewellers, said to be the largest outside India.
It also has dozens of sari shops, Asian sweet shops, as well as Indian restaurants and takeaways.
After meetings of the Golden Mile Regeneration Group, which is made up of city councillors and staff, businesses and residents, two parts of the route have now gone out to public consultation.
At the Loughborough Road junction, the authority has suggested replacing traffic lights with trees, benches, seating and cycle racks.
Outside Belgrave Neighbourhood Centre, there would be a wider area for visitors, a new pedestrian crossing and extra trees.
City Mayor Peter Soulsby said busy Belgrave Road is often congested.
"There are too many traffic lights which just prevent the flow of traffic. It is noisy and air quality is often poor," he said.
"This shared space scheme would create far more pleasant areas."
Staff at Abbey Motors in Belgrave Road have concerns that removing traffic lights could put shoppers off.
"The traffic lights have got a purpose. If they start removing them people want to move from one side to another. It's a shopping thing," one worker said.
"It's too much of a busy area."
The council has organised three public exhibition events this week for residents to give their views.
As well as at Leicester's Jubilee Square, shared spaces have been created in other towns and cities, including Coventry, Poynton in Cheshire and Ashford in Kent.