Leicester City Council ordered to compensate baby's parents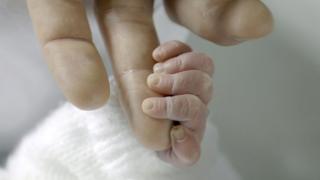 Leicester City Council has been ordered to pay £12,000 in compensation after a couple with learning difficulties were separated from their baby daughter.
The girl was put into foster care three weeks after her birth over concerns over the parents' competency.
The infant, now 18 months old, is in the couple's care. They are being given extra support from social workers.
The family court judge said the happy ending should not mask the authority's "serious failings".
'Unjustified and inexcusable'
The court heard that social workers took the measures because they considered the mother was "extremely vulnerable" and the father suffered from epileptic seizures.
However, Judge Clifford Bellamy said there was clear evidence that the local authority's handling of the case had had a significant impact on the couple.
The baby was put into foster care while social workers began the process of assessing the parents' ability to look after her.
However, a whole year passed before care proceedings began and the parents were sent on a 12-week assessment course.
Judge Bellamy said the delay was "unjustified and inexcusable" and the couple were awarded £12,000.
He added that the assessment report had been "overwhelmingly positive" and the parents should be allowed to care for their daughter with additional support.