Leicester attempted murder blamed on 'black magic'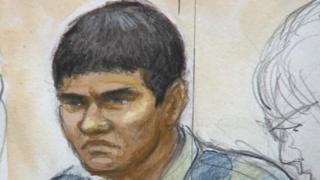 A man accused of slashing the throat of a woman who had refused to marry him has told a court he was a victim of black magic.
Bharat Soma, 26, from North Evington, Leicester, is accused of attempting to murder 18-year-old Darshana Narotam and her boyfriend Prashant Govinde.
Leicester Crown Court heard the pair were shopping in Spinney Hill, Leicester when Mr Soma approached them.
The defendant told the jury he had a knife but never intended to kill them.
During the trial the court has heard Ms Narotam had been kept locked in her room for months after refusing to marry Mr Soma.
She had told her family she wanted to marry Mr Govinde, 22, and the couple, from Wembley, London, had run away to Leicester to be together.
Giving evidence through an interpreter, Mr Soma said in the weeks before the attack he had felt weak, sick and was having nightmares.
He said: "I felt like someone had done some kind of magic to me. Black magic."
Mr Soma said that when he saw Ms Narotam from behind he took out the knife and held it to her throat.
He said there was a struggle and said he did not know if she had been hurt.
Mr Soma admitted lying during police interviews and said he did not intend to kill the couple but just wanted to talk to them.
"So why didn't you talk to them?" asked prosecution counsel Adrienne Lucking.
"Because my mind wasn't working," Mr Soma replied.
Ms Narotam's father, Narotam Deugi, 41, and her mother Parvati Natu, 42, of Wembley, both deny charges of common assault and false imprisonment.
Four other people, three uncles and a cousin of Ms Narotam, deny charges related to the kidnapping of Mr Govinde's father, Govinde Ramji, in an attempt to find out the couple's whereabouts.
The trial is expected to last another four weeks.