Market Harborough listed former school building restored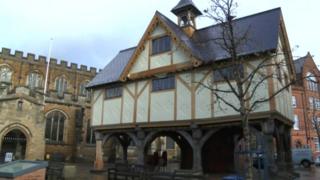 A project to restore a Grade I listed former grammar school in Leicestershire has been completed.
The Market Harborough and the Bowdens Charity, which manages the building, raised £400,000 for the renovation.
Improvements to the old school, built in 1614 by local man Robert Smyth, included replacing the slate roof and restoring the oak timbers.
The building, which celebrates its 400th anniversary this year, was built on stilts to allow for a market below.
The project has taken about 10 months to complete, during which time the building was covered to keep the elements out.
Without the restoration, the building may have only lasted another ten years, officials said.
The former school, which will be used for meetings and be available for hire, has now been restored to how it looked prior to changes made in the 19th Century, including the original colour scheme.
The oak floor inside the building has been re-laid and the bell tower renovated.
It was put on stilts to allow the butter market to take place below the classroom and to keep the market people dry during bad weather.
Quotes from the Bible also adorn the building's timbers.