Howard League criticises 'secure college' plan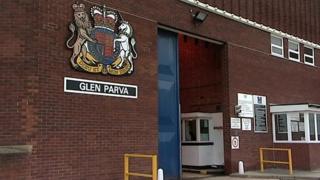 Charity campaigners are opposing plans for a secure college for teenagers.
The building, which would house 320 inmates, would be next to an existing young offenders' institute in Leicestershire and would be the first of its kind in England and Wales.
But the Howard League for Penal Reform said "small, local secure units" were better.
Prisons Minister Andrew Selous said the unit would give vital skills and qualifications to young offenders.
An application for the college, which would be next to the Glen Parva Young Offenders' Institute, was first approved by Blaby District Council in 2010, but has since expired.
A new application to extend the planning permission will be discussed on Thursday.
'Cloud cuckoo land'
The college would provide accommodation and education for boys and girls aged 12 to 17.
If approved, construction could start next March with completion expected by 2017.
A new bill setting up the secure colleges is still being debated in the House of Lords and must be approved before the project can go ahead.
Howard League spokesman Andrew Nielson said the number of young offenders in England and Wales had fallen to 1,000 since the plan was first proposed.
"Effectively a third of those children will be housed in this one institution, often hundreds of miles away from their families, and we don't think that is the right approach.
"All the evidence suggests small, local secure units are much better for working with children if they have to go into custody."
Howard League chief executive Frances Crook said: "Some of these children are so disturbed ... that talking about putting them in a classroom for 30 hours a week is just 'cloud cuckoo land'.
"A huge institution like this is never going to work for these young children who need very specialist care."
Mr Selous said the college would benefit many young offenders.
"It will be the equivalent of a small secondary school," he said, adding the current system was spending £100,000 a year for each young offender and "not getting very good results".