Leicester Royal Infirmary multi-storey 'to double' number of spaces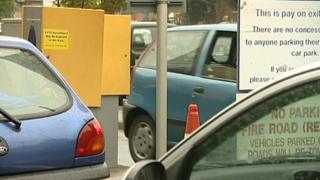 On-site parking at Leicester Royal Infirmary (LRI) is set to double when a new multi-storey opens at the end of next year, an NHS trust has said.
The hospital has been beset by parking problems for years, with visitors facing queues of up to an hour.
A petition demanding a multi-storey car park was signed by 10,000 people 10 years ago.
University Hospitals of Leicester NHS Trust said the car park for 610 cars would open in December 2015.
Half of the 300 spaces at LRI's Havelock Street car park will be lost when the multi-storey is built, leaving a total of about 760 spaces, the trust said.
'Pandemonium'
Estates director Andrew Chatten said the multi-storey, which is currently under design, would connect the Havelock Street car park to Aylestone Road.
"There are two objectives: one to provide better access for the public and the second is to reduce congestion in surrounding roads and reduce impact on local residents," he said.
Health campaigner Zuffar Haq, who submitted the 10,000-signature petition in 2004, said it was "absolute madness" the trust had not dealt with parking problems sooner.
"This can't go on," he said.
Ivan Deacon, who works at a private car park next to the hospital, said drivers were "clashing" with one another.
"It's pandemonium - it's a free-for-all. They're arguing, they're clashing."
Mr Chatten said he would work with the city council in the period before the multi-storey is built to reduce congestion on surrounding roads.