Bishop of Leicester Tim Stevens to retire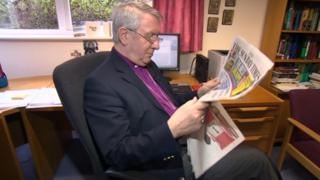 The Bishop of Leicester has announced he is to retire.
The Right Reverend Tim Stevens said on Tuesday he would be standing down in July after 16 years in the role.
The bishop described his time in Leicester as "the most demanding and fulfilling years of my life".
He said: "It has been an immense privilege to have had the opportunity to be part of so many communities, organisations and projects that serve the wider community."
City mayor Peter Soulsby said the churchman had made a "huge contribution to the city".
"He has been an inspirational leader and has made a remarkable contribution to understanding between different faiths," said the mayor.
Suleman Nagdi, from the Federation of Muslim Organisations, said: "Bishop Tim is fondly referred to as 'our bishop' among the many faith communities in Leicestershire.
"His role as chair of the Leicester Faith Leaders' Forum has been invaluable, particularly at times of international tension," he said.
"He will be deeply missed."