WW1 love letters between sweethearts fetch £5,000 at auction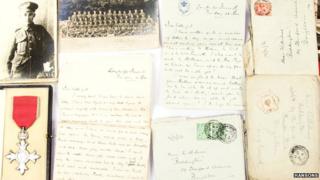 Nearly 400 handwritten love letters exchanged between a soldier and his sweetheart during World War One have been sold at auction for £5,000.
The letters, said to be the largest collection belonging to one soldier, were discovered in the attic of a house in Hinckley, Leicestershire.
The set also includes 72 diaries, hundreds of photographs and medals.
Auctioneer Charles Hanson described the letters as "intensely emotional" and "moving".
The letters were written by Donald Evan Davies of the 2/15th Battalion County of London Regiment, Prince of Wales Own Civil Service Rifles.
They were exchanged with Freda Willshire, known as Dolly, who lived in Brighton.
The letters began arriving in Brighton on 6 April 1915, two days after the soldier left, and carried on until 1919. There was an average of one letter every three days during his active service.
In the correspondence, Mr Davies goes through his time in training, the trenches of France, the Balkans and the Middle East while expressing his love and devotion to Miss Willshire.
In them, he talks of dreams he has of smothering her with kisses and spending days together.
Charles Hanson, from Hansons Auctioneers in Derbyshire, said: "This is the most moving collection of letters I have ever read.
"How he managed to keep writing these beautifully and intensely emotional letters throughout the war is staggering.
"It feels as if you are there with them and can't help being caught up in their love affair."
The letters were found neatly folded and still in their original envelopes.
They continue for four years until the couple married.
The diaries start in 1909 detailing the reality of war, the loss of his brother and his time in hospitals dealing with wounds and trench fever.
They end when Mr Davies died in 1982.
The letters were sold to a bidder in the UK, the auctioneers said.