Care worker Lorenzo Bacus could have more victims, say police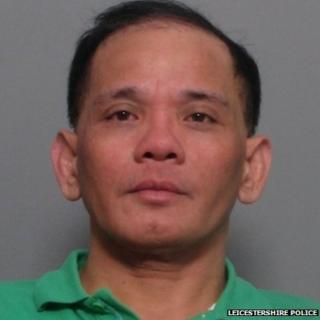 A care worker who has been jailed for abusing a male resident at a home could have struck before, say police.
Lorenzo Bacus, from Leicester, was found guilty of six counts of sexual assaults on a resident at a city care home.
Officers say the 55-year-old nurse had worked at other homes in Leicester between 2000 and 2009, and now believe he could have more victims.
He was jailed for three years at Leicester Crown Court on Friday.
Det Con Emma Bee called for anyone who recognised his photo to get in touch.
Bacus, of Aylmer Road, was arrested in May last year after a resident told staff they had been touched inappropriately by him.
He had been abusing the man since he had moved into the home at the start of 2013.
Det Con Bee said enquiries had not determined whether Bacus may have committed crimes at other care homes, but asked for anyone who believes they, or a relative, had been a victim to come forward.
She said: "It's not always easy to come forward and report such crimes but please be assured that your concerns will be taken seriously.
"We have specialist officers and access to a number of agencies who can guide and support you or your loves ones throughout the process."