Leicester 'honour' attacker found guilty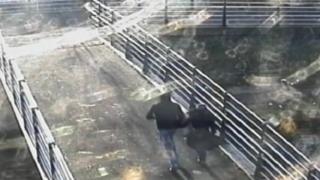 A man has been found guilty of an "honour" attack in which he slashed a teenager's throat with a kitchen knife.
Bharat Soma attacked Darshana Narotam, 18, and her boyfriend Prashant Govinde on a Leicester street after she refused to marry him.
Soma, 26, was found guilty on two counts of attempted murder and a third charge of wounding at Leicester Crown Court.
Ms Narotam and Mr Govinde had eloped to Leicester from Wembley, London.
Ms Narotam, who was 17 at the time, and Mr Govinde, 23, were shopping in the city's East Park Road with a 15-year-old boy, who cannot be named, when they were followed by Soma.
As horrified shoppers looked on, Soma grabbed Ms Narotam and slit her throat before stabbing Mr Govinde in the neck. Their teenage companion suffered minor injuries.
Ms Narotam wrestled the knife from her attacker, who was screaming: "My wife, my wife".
Prosecutors said Soma had tried to kill the pair because he considered they had "dishonoured him".
During his defence he said he had carried out the attack because his "mind wasn't working" and he was a victim of black magic.
Det Sgt Scott Cairns said: "This was a sudden and frenzied attack with a brand new knife he had in his pocket.
"He approached a 17-year-old girl in the street from behind. He put a knife to her throat - she was cut across the full width of her neck.
"The young man was stabbed [in the shoulder near his neck] so severely it came out the rear. It was pure fluke they did not die."
During the eight-week trial the jury watched footage from body cameras worn by the officers which caught the moments the couple thought they were going to die.
As they lay huddled together in a pool of blood, Ms Narotam told Mr Govinde: "I'm going to die. You won't be able to save me now."
Officers stemmed the bleeding and took a short statement on the cameras in what they thought could have been the last chance to interview the victims.
Agreement to marry
The jury had heard Ms Narotam's family and Soma were originally from Dui, a small island off the west coast of India, and had moved to England in 2009.
In 2012 an agreement was made between the families that Ms Narotam would marry Soma after she turned 18.
Ms Narotam's father, Narotam Deugi, 40, from Wembley was found guilty of common assault against his daughter and given a 12-month conditional discharge.
He was found not guilty of false imprisonment, along with her mother Parvati Natu, 42.
Three of Ms Narotam's uncles Jignesh Devgi, 31, Harshad Jagdish, 25, and Shanitlal Natu, 37, and a cousin Kaushik Meghji, 18, all from Wembley were also cleared of kidnapping charges.
Soma is due to be sentenced on Wednesday.