Margarine artist Vipula Athukorale's Culinary World Cup win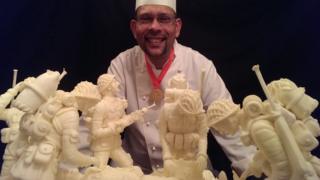 A chef who carves sculptures from margarine has won an international competition for a second time.
Vipula Athukorale, 51, who lives in Leicester, achieved gold during the Culinary World Cup, held in Luxembourg, the same event he won in 2010.
He said his winning entry, a World War One battlefield scene, took him three weeks and is made from 20kg (44lb) of pastry margarine.
He said he had wanted to mark the 100th anniversary of the conflict's outbreak.
Mr Athukorale's 2010 win was based on a Victorian street scene by artist Ronald Embleton, which he showed to the public at Belgrave Hall Museum, in 2011.
Other margarine sculptures he has completed include a foot-long Rolls Royce car complete with four passengers travelling to a wedding.
The artist said he has to keep his breathing steady while carving finer details and sometimes works long into the night.
As well as margarine, which carves better than butter, Mr Athukorale, who is originally from Sri Lanka, has made art from watermelon and lumps of polystyrene.
He trained as a hotel manager in Sri Lanka but developed his food art in 1984 while working as a kitchen artist, carving table centre-pieces for five star hotels.
After working at hotels in Iraq, Bahrain and Athens he moved to Leicester in 2004.