Oakham's Christmas tree replaced after Facebook campaign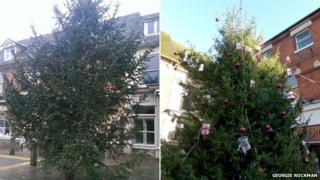 A town's "sad and sorry" Christmas tree has been replaced after a Facebook campaign joined by nearly 900 people.
Residents in Oakham - Rutland's county town - called their original tree an "embarrassment" and "pathetic".
Chris Hamilton, from a local garden centre, travelled to Norfolk to buy a new one as a Christmas gift to the town.
The town council, which pays for the tree, admitted it was "disappointed" at the standard of this year's effort.
The lights are due to be switched on later.
'Beautiful place'
Rutland Garden Centre director Mr Hamilton said the previous tree was "sad and sorry".
"Oakham is a beautiful place - the shops here and the people of Oakham really do deserve a nice Christmas tree and that's why I've stepped forward to see what I can do," he said.
He and the owner of the business have split the cost of the tree.
"This is our Christmas present to the people of Oakham," he said.
The state of the original 20ft (6.1m) tree prompted hundreds of people to join a Facebook campaign.
Claire Seery wrote: "If this is the best they can do they should just take it down and not bother. Save the town the embarrassment."
Many were angry at the lights being draped up and down, rather than around the tree.
"The decoration of it is, I'm afraid, abysmal. Can someone please put the lights on correctly, not just draped from top to bottom," Debbie Melluish wrote.
Rutland Rotary Club, which provided trees to the town free of charge, has in the last few years asked the town council for help with funding.
Council deputy chairman Alf Dewis said: "We are very disappointed at the standard of the lights and the tree.
"I wouldn't say it's embarrassing but people have the right to make complaints if they wish, and they have done so."