Ratcliffe College presented with Spitfire remains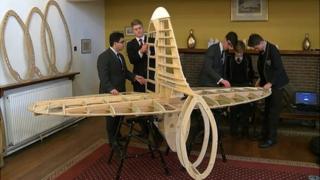 A school in Leicestershire has been presented with pieces of a Spitfire flown by a former pupil.
The aircraft, piloted by Paul Baillon, crashed near Upavon, Wiltshire, on 27 October 1940 after being hit during the Battle of Britain.
It was excavated in 2013 by archaeologists and service personnel as part of Operation Nightingale.
Ratcliffe College, which is building a full-size replica of the Spitfire, will put the remains on permanent display.
Pilot Officer Baillon, who attended the school from 1923 to 1932, was called up to the RAF at the outbreak of war in 1939.
Spitfire P9503 was damaged on his first combat flight but he but successfully bailed out. He was killed in a dogfight weeks later.
Richard Osgood, one of the team who excavated the aircraft, said there were some especially evocative remains.
"One of the most poignant is the catch to release the Spitfire's canopy," he said.
"It's just a little piece of metal but this is one of the last things Paul would have touched as he went to get out. Imagine the thoughts going through his head."
Three years ago, Dominic Berry, head of art and design at the college, started The Ratcliffe Spitfire project to building a wooden replica of P9503.
"This is an extra story that adds a massive dimension - an historical dimension to this project," he said.
"That tangible link to living history, here at this school, I think is phenomenal."