Cancer patient who held his own 'wake' now has years to live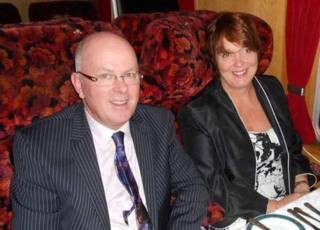 A cancer patient who held his own "wake" to say goodbye to family and friends now expects to live for many more years.
Joe Bohen was told he had only eight weeks to live, then found out he could have eight more years because his cancer is a rare slow-growing type.
The 57-year-old, from Markfield in Leicestershire, said he was making the most of the time he has left.
And he has not given up hope that a cure will be found in the meantime.
Mr Bohen said his wake was quite emotional.
"There was 124 people there and they all thought that I was seven weeks from death, and so did I," he said.
He was given eight weeks to live in April, when a doctor told him he had a tumour on his right lung, two tumours on his spine and all his lymph glands were cancerous.
But he has already survived more than eight months, and tests have shown the cancer is a slow-growing kind.
He said the diagnosis changed how he approaches life for the better.
"One of the main things I wanted to do was just to tell the immediate members of the family how proud and pleased I am with them," he said.
"I grew up in a very ordinary family, it was always very difficult to put your arms around somebody and say I love you, but when you are down to eight weeks you've got to say those things."
---
Carcinoid cancer
Joe Bohen has carcinoid tumours, which are rare and tend to be slow-growing.
The tumours may not cause any symptoms for several years, so doctors often diagnose carcinoid when doing tests for something else.
Out of all the people diagnosed with carcinoid tumours, between 68% and 77% will live for more than five years.
---
Mr Bohen is having chemotherapy and has carried on working as a freight systems developer because he loves his job.
"We had a major project that wasn't totally completed, and I was worried to death that I was going to die before this thing was completed," he said.
"At the present moment I just want to get on with my life, with my family, with my friends, and enjoy what I've got left.
"If in the intervening period medical science does advance then put me in there, give me the jab, whatever, I'm quite willing to be any sort of guinea pig that they want me to be."