eBay honeymoon wife replacement auction reaches £1,800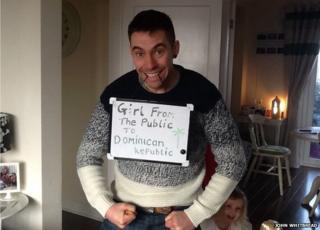 An online auction to join a man on his honeymoon after he split with his fiancée has reached £1,800.
Instead of cancelling his holiday for two to the Dominican Republic, John Whitbread decided to offer the chance to join him to the highest eBay bidder.
After an "overwhelming" response from 65 bidders, he has said he will donate some of the money to charity.
Although the offer is only open to women, the 32-year-old insists he is not looking for romance.
Mr Whitbread, from Donisthorpe in Leicestershire, said he and his fiancée, who were due to marry on Valentine's Day, had split up over Christmas.
When he asked his travel agent for a refund for the all-inclusive trip, he said he was offered half the money back.
"I've been working so hard for the last three or four months, this was the light at the end of the tunnel," he said.
"But no one wants to go with me knowing it's the honeymoon - who would want to go?"
'Nothing sinister'
On eBay, he describes the auction as "a once in a lifetime opportunity, one to tell the grandkids, an adventure of a lifetime".
Since he placed the bid at the weekend, he said he has been "overwhelmed" by the amount bid so far.
The cash will be used as spending money on the trip. When the auction ends next week, he said anything raised above £1,050 will be donated to testicular cancer charity Balls To Cancer.
The catch is the offer is only open to women, despite Mr Whitbread insisting he is "not ready" for romance and just wants a "bit of a laugh".
"Nothing sinister but it would just be nice to enjoy female company and relax for a couple of weeks. It would be nice to get a friendship out of it.
"It could be anyone but that's the adventure - it's someone I would never go on holiday with."
He said he hopes the honeymoon suite in the four-star hotel on the Caribbean island has a sofa he can sleep on.