Leicester council offices demolition date set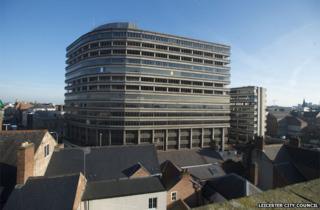 A date has been set for the demolition of "crumbling" former council offices in Leicester.
The New Walk Centre will be destroyed in a controlled explosion, known as a "double blow-down", on 22 February.
The demolition of the two 1970s tower blocks, which have been part of the city's skyline for 40 years, will be recorded for people to watch.
The Leicester City Council headquarters were declared unsafe in 2010.
Staff were gradually moved to other buildings, with mayor Peter Soulsby among the last to leave in June 2014.
'Pulling apart'
"The engineers were entirely right," said Mr Soulsby.
"What you were able to do was to look from the upper floors, through the cracks, down through several floors and see how the building was actually pulling apart."
Billy Young, contracts manager for DSM Demolition, said it was important that media will be able to record the demolition.
"It's a big public interest issue in Leicester, it's not just a major demolition but it's a major development and we think it needs to be recorded for the people of Leicester," he said.
"It is a big job. It's a double blow-down, it's a city centre job, it's complicated and it's probably up in the top ten jobs that I've ever done."
The time of the demolition will depend on how long it takes to evacuate people, but traffic diversions will be implemented by 06:00 GMT and evacuation will begin at 08:00.
Displaced residents and businesses will be offered temporary accommodation at the Tigers ground, where they will be able to watch the demolition on a screen.
Mr Young said 95% of material from the demolition will be recycled.
Mr Soulsby said an announcement will be made shortly on a preferred developer to bring the "prime city centre" site back into use.