Eleven held before Leicester versus Aston Villa football match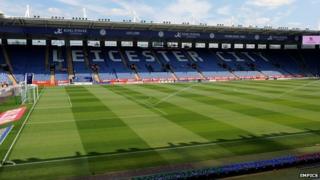 A teenager has been charged with possession of a firework at Saturday's football match between Leicester City and Aston Villa.
The 16-year-old was arrested as part of a policing operation to use stop and search powers.
The force said officers had been authorised to use the powers after receiving information that "serious disorder was being planned between hooligan elements of both clubs".
Eleven people in total were arrested.
A second man, aged 24, was charged with possession of an offensive weapon.
Both of those charged were also served with football banning notice applications and will appear before courts in the coming weeks.
The other eight men and one youth were arrested on suspicion of offences including affray, criminal damage and threats to damage, and remain in police custody.
In total, 87 people were stopped and searched.
Assistant Chief Constable Phil Kay, said: "As a result of the actions we took we were able to prevent serious disorder from taking place and allow law abiding supporters to enjoy the game."