Farm hit by falling milk prices sells 'raw' milk direct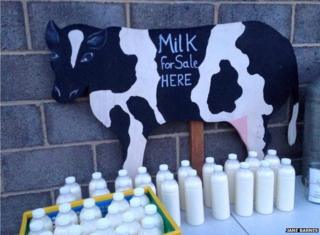 A farm has started selling its milk directly to the public because the money it receives wholesale is "plummeting".
Jane Barnes has a licence from the Food Standards Agency to sell unpasteurised milk, sometimes known as raw milk, directly from her farm in Somerby, Leicestershire.
She is aiming to sell 20 litres a day, priced at £1 a litre, to begin with.
The majority of the farm's milk will continue to be sold for cheese making.
"We've been thinking about it for a while and we thought we would try it out as the news has hit the headlines about the price of milk," said Mrs Barnes.
She said the farm she runs with her husband had been affected by the fall in milk prices globally.
The price per litre they receive has dropped since July, although she did not want to say how much they receive.
"Basically there's too much milk in the world," she said.
"It does have a huge impact on every dairy farmer in the whole wide world; we are a global market now."