'Jilted John': Raffle nets companion for eBay honeymoon man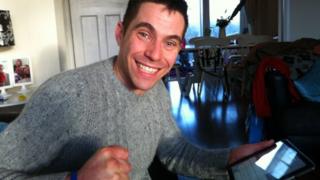 After being jilted three times, a man who tried to auction his ex-fiancée's honeymoon place has finally found a holiday partner.
John Whitbread, from Leicestershire, put the £1,800 trip to the Dominican Republic on eBay in the hope of finding a female companion.
But the two highest bidders failed to pay the winning sum.
He instead sold £10 raffle tickets and the lucky winner drawn out of a hat has agreed to jet off with him.
The "Jilted John" raffle raised £1,420 for Balls to Cancer.
Mr Whitbread confirmed to the BBC that the winner had agreed to accompany him to the Caribbean.
The 32-year-old, who grew up in Derbyshire, split from his fiancée six weeks before their wedding.
He was determined not to go on the honeymoon alone and so auctioned off his partner's place - to women only - on eBay.
After the top two bidders failed to pay, he decided to hold a raffle instead.