Mohammed Ashrafi 'conned victims out of thousands of pounds'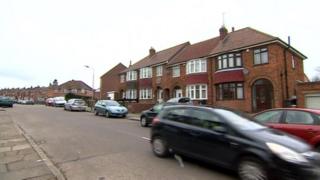 An astrologist conned victims out of hundreds of thousands of pounds, by claiming he could give them winning lottery numbers, a court has heard.
Mohammed Ashrafi ran a faith-healing and astrology service out of his house in Babingley Drive in Leicester.
He told victims he would pray to Indian spiritual master Sai Baba for the winning numbers in return for money, Leicester Crown Court heard.
He denies 15 counts of fraud against 18 victims and one charge of blackmail.
'Magical abilities'
At the opening of his trial, the jury was told Mr Ashrafi advertised his services through leaflets and on local radio in Leicester.
When he spoke to his victims, he would tell them he could communicate directly with Sai Baba, cupping his hand to his ear and reeling off what he said were the winning numbers for the lottery.
The prosecution said he made himself out as a miracle worker and would prove his magical abilities with tricks.
This included rubbing his hands together and producing prayer beads out of nowhere.
The trial is expected to last a month.