Grand Union Canal pollution kills 60,000 fish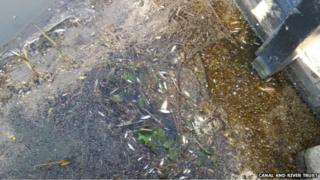 Some 60,000 fish have died in a canal polluted with farm slurry, prompting an investigation.
More than 100,000 fish were rescued from a seven-mile stretch of the Grand Union Canal's Leicester line after fish were seen in distress in December.
The Canal and River Trust said two miles of the canal were completely empty of fish.
The stretch between Kilby Bridge and Kibworth Top Lock has now reopened to canal traffic.
Sarah Rudy, from the trust, said between 50,000 and 60,000 fish, including pike, roach and bream, were believed to have died, worth an estimated £40,000.
She estimated the stretch of the canal, designated a Site of Special Scientific Interest, may have been home to 200,000 fish before the slurry entered the water.
"It will have a massive impact on the fish population and a massive impact on the angling community," she said.
The trust worked with the Environment Agency and Natural England to contain the pollution and move the fish up the canal. Air was pumped into the water to increase oxygen levels.
The section was closed to barges and other traffic for three weeks but has now reopened.
The agency said it would take time for fish stocks to return to normal and it has started an investigation into how the water came to be polluted.
"Whilst the incident resulted in thousands of fish deaths, the outcome could have been far worse," said incident commander John Dronfield.