Leicestershire's Stoneywell cottage opened to the public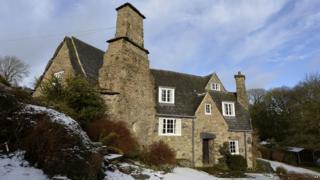 A 19th Century cottage designed by an influential British artist and architect is set to open to the public.
Stoneywell, in Ulverscroft, is Leicestershire's first National Trust house and is considered a rare example from the Arts and Crafts Movement, which began in 1880.
The cottage was created by Ernest Gimson, from Leicester, who was a leading light of the movement.
The organisation formed as a reaction to Victorian industrialisation and grew from a desire to revive traditional craftsmanship, much of which can be seen inside the property.
The home, constructed from rough-hewn local stone, was built in 1899 for Mr Gimson's elder brother and remained in the family until 2012.
Caroline Taylor, Stoneywell's operations manager, said the National Trust chose to present the cottage as it was in the 1950s, when Ernest's great nephew Donald and his wife Anne, moved there to bring up their family.
Inside there is a working model railway and children's books and games from the 1950s with original Arts and Crafts interiors.
Lars Tharp, from the Antiques Roadshow, is a fan of the Arts and Crafts movement and approved of the Gimson home.
He said: "Stoneywell is the perfect adventure house with its light filled rooms, warren of twisting stairs and surprising angles.
"I think anybody coming here will be absolutely entranced."
Stoneywell was acquired by the National Trust in late 2012 with help from the Gimson family and National Trust supporters.
A programme of conservation and repairs were undertaken to prepare the house and garden for visitors.
Stoneywell opens to the public on Monday but due to its small size visits must be booked in advance.
---
Ernest Gimson 1864 - 1919
Ernest Gimson, who was born in Leicester in 1864, was a furniture designer and architect
He designed the Stoneywell cottage around 1897-99, before it was built by Detmar Blow in 1899
He was described by the art critic Nikolaus Pevsner as "the greatest of the English architect-designers"
Gimson was part of the Arts and Crafts movement aimed at restoring simplicity and honesty to how buildings and furnishings were made
The movement was a reaction against the Victorian fashion for complicated designs
---