Mohammed Ashrafi case: The fraudsters who pose as faith healers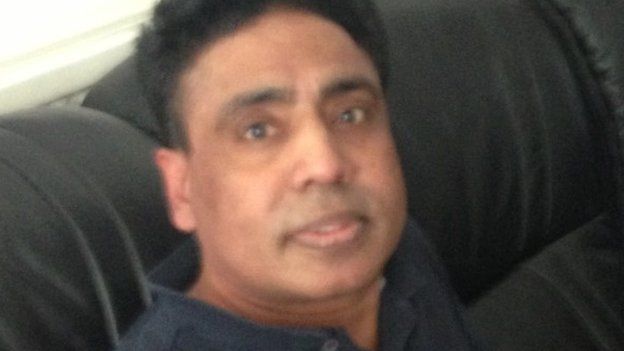 A man has been convicted of swindling money from people by posing as a faith healer, promising cures and lottery wins. But why do people fall for con artists like Mohammed Ashrafi?
Although the concept of faith and spiritual healing may seem ridiculous to some, there are those who claim they can cure illnesses, solve problems or rid people of "bad spirits", when scientific treatments fail.
Healers may use touch, traditional prayers or shrines, while rituals such as beating people around the head or placing hot objects on the body are common in African cultures.
But, psychologists say a strong belief in such methods can leave some vulnerable people open to exploitation by unscrupulous practitioners.
Rashmi Joshi, president of the National Council of Hindu Temples, says those who are drawn in by people like Ashrafi are usually desperate.
He says once the lies become apparent, they are often too ashamed to admit they have been conned and so many fraudsters get away unreported.
"Fake healers prey on the vulnerable who feel they have nowhere else to turn and no-one else to talk to. They are clever," he says.
"It is sad someone will use these tricks and the name of God to take money from people.
"I regularly remind people not to fall into this kind of trap. If anybody says they can cure your issues or problems, the one thing you never do is part with large amounts of money.
"Good honest priests and healers will not go down this line."
The use of healers and astrologers is common in numerous faiths and cultures, and adverts for their services can be found in temples, magazines and specialist newspapers.
These therapists, despite attracting a certain amount of scepticism, have many satisfied customers. But, like Ashrafi, there are also ruthless individuals who target people .
Last year Juliette D'Souza, from London, was jailed for posing as a shaman for 12 years, telling people their money would be used as a spiritual offering in the Amazon rainforest to cure their illnesses.
She took £1m from her victims, some of whom were left "financially ruined", and spent it on designer handbags and luxury holidays.
Fraudsters like D'Souza and Ashrafi used tried-and-tested cons to ensnare their victims, says psychologist Christopher French, former editor of The Skeptic magazine.
They often start with small-scale tricks to convince clients of their "special powers" and once they're hooked, will make demands for more money.
"The con artists use cheap trickery to convince people of their skills," says Professor French.
"They are manipulative, have psychopathic traits because they don't have any kind of remorse and have an element of greed.
"They will be careful about who they choose for their victims - those foolish enough to fall for their tricks or have access to money."
Chartered psychologist Mike Lowis says they are clever in looking for clues about a person and telling them what they want to hear.
"People do funny things when they are vulnerable and confidence is low," he said.
"You are susceptible to try anything and will believe anything if it is what you want to hear.
"This is why people fall for it."
So how do the actions of conmen like Ashrafi reflect on faith healing in general?
Many believe practitioners use nothing more than simple mind tricks, veiled in spiritualism and superstition.
Mr Lowis says people often feel they have been cured or unburdened when all a healer has done is change their outlook.
"So, many problems are caused by mind over matter," he said.
"So-called faith healers know about the state of mind affecting your body, so they are able to bring about improvement or draw people in just by getting them to have a more positive attitude."
Despite the doubters, there are those who believe they have genuine "healing powers".
David Cunningham says he was "born with the gift of healing", but only began making a living from it in 1990 after he spent 100 days in captivity in Baghdad during the Gulf War.
He had been working as a hotel manager when he was taken hostage, and has since had high-profile clients like Bruce Willis and Demi Moore.
Mr Cunningham says he can cure illness and physical, emotional and mental health problems, by "creating high and positive energy" that flows through his hands to his client.
"People have been doing this kind of healing for thousands of years," he says.
"Not all medicine works for people and they won't come to you if they don't believe.
"I wouldn't still be doing this if I didn't think it worked and people didn't get better."
Mr Cunningham says while many healers make an honest living with their powers, those exposed as frauds can give them "a bad name".
He says the fake healers undermine the treatments he offers, as well as people's belief in the practice.
"It is very sad they will prey on the sick and vulnerable," he said.
"It makes people suspicious of what you do and it is a shame reputations have been ruined by these people that don't have any ethics."
Related Internet Links
The BBC is not responsible for the content of external sites.