Why do rugby fans sing Swing Low, Sweet Chariot?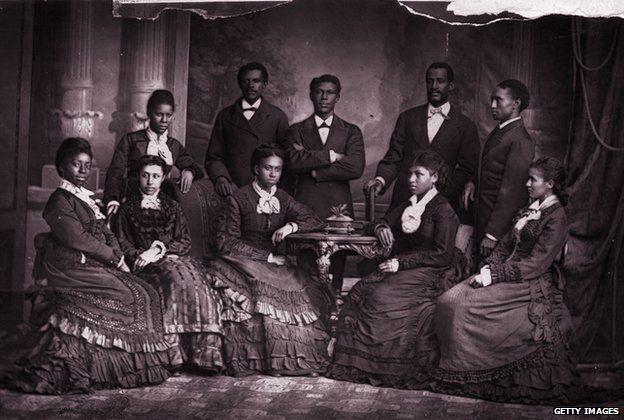 The Rugby Football Union is trying to find out how a song rooted in slavery became an anthem for rugby fans.
Swing Low, Sweet Chariot is a spiritual - a type of song created by African people enslaved in the US.
England's supporters were rumoured to have adopted the song when a group of schoolboys began singing it at Twickenham in 1988.
But now, after four rugby club members claimed they started the trend, the RFU said it wanted to find out more.
Dave Hales, from Market Bosworth Rugby Club, told BBC Radio Leicester: "We were in the North Stand having a bit of a good time, a good day. We started trying to get a few songs going. Various ones didn't really catch on.
"All of a sudden I started singing Swing Low and the next thing you know the crowd round us was singing it, then the whole North Stand seemed to be singing it, and then the whole ground seemed to be singing it.
"The atmosphere was just absolutely brilliant really. Absolutely fantastic."
The boys were alleged to have been serenading Chris Oti, a black player, making this theory more controversial because of the song's link with slavery.
But the Market Bosworth Rugby Club members at Twickenham that day - Dave Hales, John Ward, Bruce Coleman and Paul Spencer - all maintain they started singing the song first.
Mr Ward said: "As far as we are concerned it started after, I believe, Rory Underwood scored the first try in the second half.
"It wasn't anything to do with Chris Oti particularly.
"People used to sing it in rugby club houses, but as far as we are concerned it had never been brought to Twickenham."
The RFU said in a statement: "It is understood that the emergence of the song in a rugby context has often been credited to a group of school boys from Douai Abbey, who attended the Five Nations match in 1988, but never officially confirmed.
"It is interesting that new information is coming to light with regard to the emergence of the song and we look forward to finding out more."
The song is thought to have been composed by a slave called Wallace Wallis - or Wallace together with his wife Minerva - in the mid-1800s.
However Horace Clarence Boyer, a prominent scholar in African-American music, believed the song is about death.
Professor Boyer, who died in 2009, told a BBC documentary: "This fits into that group of spirituals that say 'I would rather die than be here. Lord, just come and take me right now.'
"Instead they sing this, 'Swing low sweet chariot, coming for to carry me home.' Where's home? That's heaven. Or at least not here.
"That's so interesting because everybody sings that, they say 'Oh that's such a pretty melody' not knowing that was a song about death.
"It's a sad song. It's almost like a language of double entendres. It has one meaning for you and another meaning for somebody else."
The song was brought to a wider audience by the Fisk Jubilee Singers, who made the earliest known recording of it in 1909.
The group was formed in 1871 to raise money for Fisk University, and toured the US and Europe singing spirituals including Swing Low, Sweet Chariot.
The song has been covered countless times by artists including BB King, Sam Cooke, Etta James, Eric Clapton, Johnny Cash, The Staple Singers and Beyonce.
A version called Swing Low (Run With The Ball) was recorded by "Union featuring the England World Cup Squad" for the 1991 Rugby World Cup.
Other versions have been recorded for subsequent Rugby World Cups, including by UB40 and Russell Watson.
Related Internet Links
The BBC is not responsible for the content of external sites.