Leicestershire Fire Service cuts decision deferred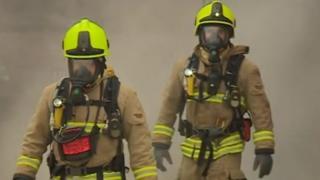 Plans to cut the number of firefighters in Leicestershire to save £7.5m have been deferred until April.
Leicestershire's Combined Fire Authority (CFA) said more time was needed to consider the impact of proposals and find alternatives.
Under the current plans, 100 firefighter jobs could be axed and engine crews cut from five to four.
The Fire Brigades Union (FBU) said the plans were "extremely dangerous" and would put lives at risk.
A report commissioned by the CFA showed the number of incidents firefighters were called to and attended had continued to fall over the past 10 years.
The service currently employs 400 firefighters who serve the county from 20 stations.
Graham Vaux, from the FBU, said Leicestershire's service was already lean and if the proposals were implemented the public would have to wait longer for an engine.
He said cutting crew numbers could put lives at risk.
However, Leicestershire's chief fire officer Dave Webb said although the service had to "make substantial savings" there was nothing being proposed that would put firefighters or the public in danger.
At a meeting held earlier, plans to take an engine out of service in Oakham were also deferred, but bosses agreed Leicester would lose one appliance to save money.