Mohammed Ashrafi: 'Spiritual healer' jailed for fraud and blackmail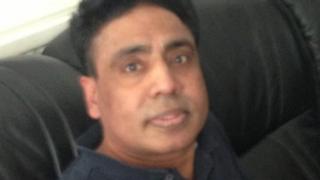 A self-proclaimed spiritual healer has been jailed for nine years after he was found guilty of conning victims out of hundreds of thousands of pounds.
Mohammed Ashrafi, 50, scammed 18 people in Leicester from a home in Babingley Drive in the city.
He was convicted of 14 counts of fraud, one attempted fraud and one of blackmail at Leicester Crown Court.
The Crown Prosecution Service (CPS) said Ashrafi ran a "cynical campaign of dishonesty".
'Destroyed my life'
Ashrafi was sentenced to a total of nine years in prison, with six years for the frauds and attempted fraud and three for blackmail.
Earlier in the trial a man, who cannot be named, told Leicester Crown Court how he handed over £150,000 to Ashrafi, who he thought was a faith healer.
The witness told the jury he believed he was being cured of an illness and would win millions in a lottery.
He described how "ashamed" he was and how he became "sucked in" by the 50-year-old.
Steve Chappell, from the CPS, said: "Mohammed Ashrafi ran a sophisticated operation to gain the confidence of his victims and showed no sign of stopping until he was arrested.
"His cynical campaign of dishonesty has been brought to an end because his victims have stood up in court to expose his lies and deception."
One of Ashrafi's victims, who was duped out of more than £60,000, said: "Words can't describe how this incident has made me feel, the whole ordeal has completely taken over and destroyed my life.
"Ashrafi came into my life when I was suffering from ill-health and took advantage of my vulnerability.
"When I look back now I feel intimidated and abused, the way he manipulated me and my family with such ease, makes me feel sick."
Ashrafi had denied all the charges against him and said he was inspired to be a spiritual healer after a miracle in India.
He told the court he had been shot and was unable to walk for four years until he was cured by a faith healer.
The jury was told he just wanted to "help the poor and sick".