Leicester Castle's Great Hall to become De Montfort business school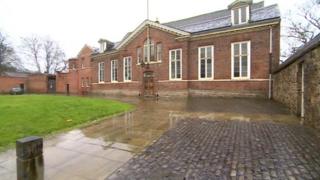 A disused building in the centre of Leicester is set to be transformed into a university business school.
Leicester Castle's Great Hall is thought to have been built by the Normans but was substantially altered and later converted to a court.
The building closed in the 1990s and was only opened on special occasions.
De Montfort University will convert it using a large donation from a Chinese investor. The move is backed by the city council, which owns the castle.
A donation by international businessman Jonathan Choi will support the £136m Mill Lane campus, which is to include fashion, design, art and architecture departments.
A new creative and cultural centre will be named for Mr Choi, who is chairman of the Hong Kong-based Sunwah Group, which has worldwide investments in seafood, real estate, financial services, technology and media.
Mr Choi said: "In the future we hope that more Chinese leaders will come over to visit our centre.
"With this centre we can work well with the UK community. Besides that, I think we can have more collaboration between China and the UK in education."
The Jonathan KS Choi Creative and Cultural Centre will focus on student exchanges and showcase a variety of work from Chinese dance to British fashion.
City councillor Patrick Kitterick said there had been a mixed reaction to the site, but said the city will work with local residents on any problems.
The final plans for the development of the castle, which is a Grade I listed building, have not yet been released.