Photo shows dead rat in Leicester restaurant kitchen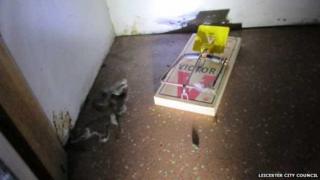 A photo showing remains of a dead rat decomposing on a restaurant's kitchen floor has been released by environmental health officers.
Leicester City Council took the Chennai Dosa, on the Golden Mile, to court to extend an emergency closure order.
The rat was so badly decomposed it had to be scraped off the floor.
The restaurant, which was fined £1,067 by Leicester magistrates, can reopen once officers are happy it is no longer a health risk.
The council had inspected the restaurant several times since December, after a customer reported seeing another rat, still alive, sitting on a window ledge.
The decomposing rat remains were found on Monday, during the most recent inspection.
In a statement provided to Leicester Magistrates Court, environmental health officer Alison Cadmore explained how she found evidence of rats on all of the restaurant's four floors.
She said the dead rat remains, "namely skin and fur", were "stuck firmly" to the floor covering.
"This indicated to me that the rat must have been dead some time for it to have decomposed to the extent that it had stuck to the floor," the statement said.
"It also indicated that the floor had not been cleaned and disinfected following removal of the rat.
"More rat droppings were found further along the floor in the bar and on the bar shelves."
The council officers also found prawns defrosting in a dirty sink alongside greasy cloths, hair in the microwave, burnt food, dirt and grease stuck to the cooker.
The council served a Hygiene Emergency Prohibition Notice to close the restaurant with immediate effect.
It then applied to court for a Hygiene Emergency Prohibition Order, to keep the restaurant closed.
The business can apply to the council to get the order lifted once it has carried out works required to remove the "imminent risk of injury to health".