'Looted' safes found in drained River Soar lock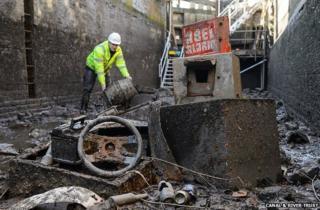 Seven "looted" safes have been found at the bottom of a 200-year-old lock that has been drained for maintenance.
Leicestershire Police said it would examine the safes to see if they are linked to any investigations.
A car engine, beer barrels, a bicycle and a small boat were also found at the bottom of North Lock on the River Soar, near Leicester city centre.
The Canal & River Trust said clearing up the debris would cost the charity about £10,000.
Waterway manager Darren Green said: "To find this amount of rubbish in just one lock is pretty outrageous.
"Whoever dumped the safes could at least have left some money in one to help us cover the costs."
The charity said the safes appear to have been "looted".
The water was drained so the lock gates can be repaired and to allow the 200-year-old brickwork to be inspected.
The rubbish needs to be cleared with an excavator before the maintenance works can get under way.