Follow BBC Richard III on WhatsApp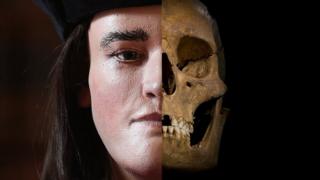 The BBC is running a Richard III WhatsApp alert service to follow the king's story in the month of his reburial.
The discovery of the king's skeleton beneath a Leicester car park in August 2012 attracted worldwide interest.
His remains will be reinterred at Leicester Cathedral on 26 March, after his coffin is taken on a procession through Leicestershire and displayed in the city for three days.
The BBC will be covering the events leading up to the reburial.
To get text, photo and video updates direct to your phone from the BBC via WhatsApp:
Add 'BBC Richard III' to your phone contacts - 07935 237 178
Send 'King' via WhatsApp to that number
That's it.
If you don't have WhatsApp you can download it for free.
Sign up and you will be sent only the best news stories and Richard III facts. Our aim is to keep you up-to-date in the most convenient way.
Your mobile number and details won't be shared with anyone else, they'll just be used to sign you up to the service.
And if at any time you want the alerts to stop just message STOP to the same number.
In addition to the WhatsApp service, the BBC is offering content on radio, online and TV, including live coverage of many events.
You can follow full coverage of the events surrounding the reburial in the BBC News Richard III special report.