Leicester museum publishing WW1 soldier's letters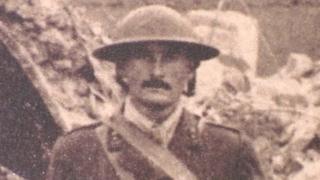 Letters written by a soldier to his family during the World War One are being posted online exactly 100 years after each one was written.
Leicester City Arts & Museums Service is posting letters written by Capt John David Hills, who served with the Royal Leicestershire Regiment, on a blog.
Between 1915 and 1918, Capt Hills wrote home whenever he could, sometimes several times a day.
The museum said the letters gave a candid personal account of the time.
Capt Hills, the eldest son of a Welsh clergyman father and a Russian born mother, arrived on the Western Front when he was 19 years old.
'Wonderful writer'
From 26 February 1915 to 26 November 1918, he sent frequent letters home, many written by candlelight, in pencil, on any scrap of paper he could find.
He was educated at an independent school and had been scheduled to start studying at Lincoln College, Oxford when war broke out.
Kerem Cetindamar, New Walk Museum blogger, is posting the letters online.
He described the soldier as "a really wonderful writer" who had a "really interesting outlook on things that happened on the front".
Capt Hills survived the war, and went on to become a master at Eton College.
The first of his letters, which have all been transcribed by museum volunteer Lilian Upton, detailed his journey and arrival in France.
Capt Hills wrote: "Please send me as soon as possible a couple of ordinary rough small hand towels. I just shaved and feeling quite fresh."
'Beautifully sick'
He included details about the men on the crossing, saying they were in high spirits but sad to be leaving England, a view he did not share.
He wrote: "Personally, I think it was high time to be going."
Capt Hills also wrote about being "beautifully sick" during the crossing on what he described as a "riverboat" and his shortcomings with the French language on arrival.
His first letter concluded: "We are in tents here and it is very cold - but have all had fur coats issued and consequently can sniff at the cold.
"I don't imagine we should be here long - probably only long enough to get the other ½ our btn up - which couldn't sail.
"I am feeling very fit. Love to dad and hope he is really all right again. Love also to the rest."